Eyeliner, as you might already know, is one of the most important parts of a woman's makeup kit. Without eyeliner, the desired can never be complete.
You might know a lot of brands that provide great quality eyeliners, and if you are still wondering, we have just the article for you. Hop on here to read about the Trenzdiva Top 10 affordable eyeliner brands.
There are like ten different types of eyeliners including Powder, Cream, Kajal, Pencil, etc. But today we are going to talk about the most commonly used types of eyeliners.
We will also be giving you the pros and cons of the eyeliners so you know which one will be the best for you.
PENCIL EYELINER
Pencil eyeliner is the most commonly used liner which makes it perfect for beginners. It is easy to manage giving good control to your hand. They work just like any other pencil; sharpen it and it is ready to use.
Pencil eyeliner is a go-to when you are in a hurry since they are the quickest and the easiest to put on.
Pros:
One of the obvious pros of pencil eyeliner is that it is the easiest to put on.
It comes in a wide range of colours.
It is the easiest to find in all brands with whichever colour you want.
Cons:
It won't give you a smooth and straight line unless the pencil is properly sharpened.
GEL/CREAM EYELINER
This gel eyeliner was previously mostly used by professional makeup artists but now it is becoming more common than ever before. Angled brush or even pencil eyeliner is used to get the eyeliner cream out of the pot that it comes in. Gel eyeliner can even be used as a creamy base underneath eyeshadow. Gel liners are generally used to give a lady more of a glam look. It is water-resistant and the structure it gives you more control over the line thickness.
While applying gel eyeliner by brush, you will be needing a slightly steady hand as it is creamy and glides very smoothly.
Pros:
It is very creamy and the easiest to smudge.
Gel eyeliner is perfect for getting a smoky eyes look.
Cons:
It is not as portable as pencil eyeliner.
LIQUID EYELINER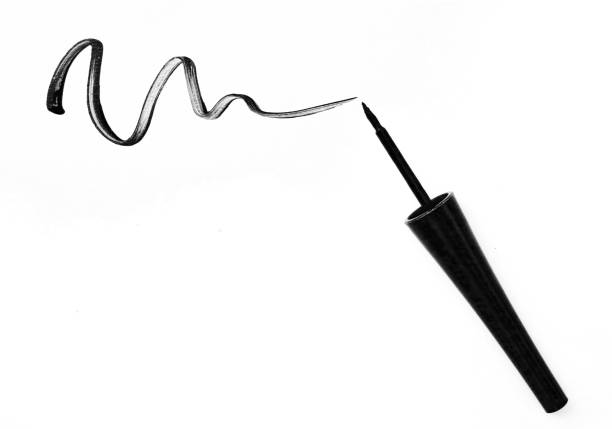 Liquid eyeliner is famous for being one of the most difficult eyeliners to use. The application of liquid eyeliners needs a steady and precise hand.
Even though liquid eyeliner is really good when you put it on, we would not recommend it if you are starting off your eyeliner journey. Start with something that is not so hard to apply, get your hands used to the movements eyeliner needs, and then try out liquid eyeliners.
Pros:
Liquid eyeliners are perfect for Arabic makeup and the cat-eye look. It gives you the dramatic effect to your eyes that would make you look mysterious and sexy.
Liquid eyeliners give you a very well-defined thin line. This helps you make your eyelashes look thicker.
Cons:
Cons of liquid eyeliners include, as we have already discussed, being hard to apply. It needs a steady and experienced hand to apply this eyeliner perfectly, and, of course, patience.
Other than that, you're good to go.
EYESHADOW AS AN EYELINER
Eyeshadow as eyeliner is the fastest and easiest way to line your lashes. To use it, you will need an angled brush or a pencil brush. Simply dip your brush into the eyeshadow of your choice and draw or smudge along the upper or lower lashline.
Pros:
Eyeshadow gives you a wider range of colours to choose from.
It is pretty easy to apply.
Cons:
It cannot be used on the waterline.
It does not last as long as other eyeliners do.
Hop on here to read about the top 10 eyeliner brands that are pocket-friendly.
You might like something on there.
To read more about eyeliners and some eyeliner beauty tips, click on any of the links below:
How to take care of your eyes while using eyeliner regularly?
Don't forget to leave a comment down below to tell us what your favorite eyeliner brand is.
Stay tuned to trenzdiva for more.