Halloween is a holiday where everybody gets creative. Planning for the costume starts well in advance. Whilst the costume is really thought about, it is all about the details. Nails add to overall costumes and Halloween nails are a big time trend. Do not miss out on these stunning nail arts! Here are the latest nail designs for this Halloween!
Corona Nails!
As cliché as it sounds, 2020 is the year of corona! Corona virus has entered not only our lives but all forms of art too! nail art is not left behind. Make it fun with these viral nail trend! Add corona virus or face masks to your nail art and hop on the band wagon!!
The Classic Pumpkin nails
Halloween is incomplete without a little orange and black. The classic Halloween décor is also an easy yet fun fun nail art. The fall colors look enticing and are just perfect for the festivities. Bring in the brightness of carved pumpkins or your fingers!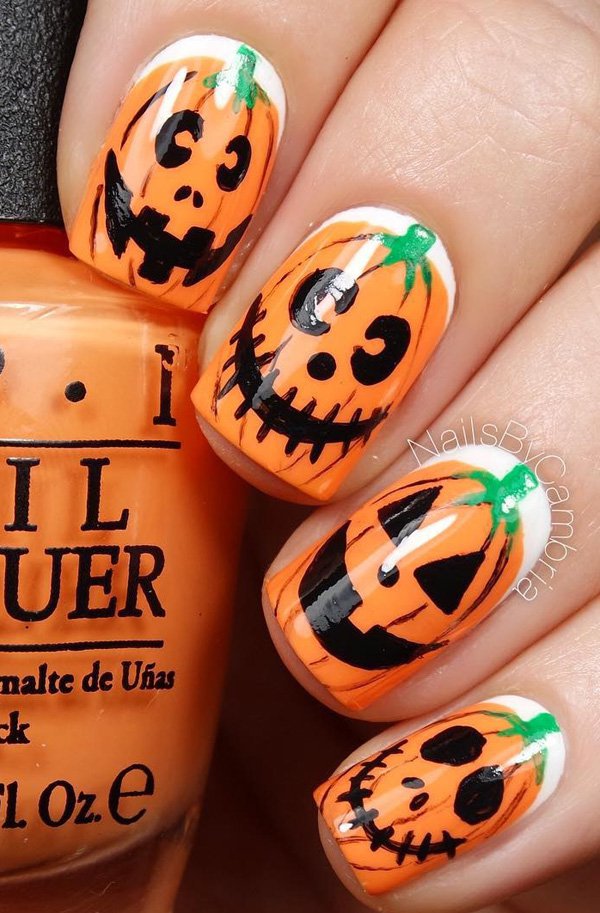 You can also make it less spooky, more cutie with this cartoon-ish figures!!
Web it!
Spiders and webs are always in when it comes to Vampy dress-ups! White on black or even a little sparkle, the skeletons make it subtle and classy, it is the perfect nail art for you little black dresses, or even your nun costumes!
Batsy bats!!
With all the crazy 'rumours' around bats, how can we miss them this year? Cute and fun, adorn your nails with sexy and pretty bat nail art like these!
You can also make it kid friendly like this…and do it as fun holiday DIY!
Spooky Skeletons and Frightening Mummies
Old school skeletons never go out of trend…cadavers and bones dancing at midnight around the grave…you get the drill..Amp it up a bit with a little extra oomph and you're good to go!
Or try this cute and easy Egyptian mummy nail art!
Halloween Night!
You can just decide to keep it simple and elegant.Dark night themes with sparkles, ghosts and glossy nail paints..
and maybe a little corn candy?…Because what is a Halloween night without some candy?
Severed finger nails!
The nail art game has really stepped up! A simple looking yet complex-to-execute nails art is winning hearts around! The enticing cosplay worthy realistic effect is made to spook people out, it is the best trick for the trick or treat night!! Use this to finish your Zombie look!
Lava lamp nails
The old trends are making a comeback, like the lava lamp from 1999! But this time they're not on the night table but on your nails! The newest trend in nail art, lava lamp nails add the x-factor to your Halloween night look! it is the perfect choice for your trick or treating night, pairing fancy and eloquence!
"It" nails
The red balloon or the yellow rain poncho incorporate the IT ghost on your nail art. Who knows, he might sneak in from under your nails too? A little difficult art to 'nail' it is one that would delight your audience for sure!
You can also choose your favorite scary movie characters like Annabelle or the Nun but you'd need an expert, unless you are one!
Pointy metallic nails
Witchy nails, pointy, rustic with a hint of sexy. Black with hues of purple and grey suit perfectly with the scary dresses! Or you can be minimal yet effective w this voodoo nail art
Find out your favorite nail art styles this Halloween! Let us know in the comments which ones you liked. Also, share your favorite designs with your friends and subscribe to our newsletter for more information on the latest fashion and beauty blogs!