Anushka Sharma's Green Maxi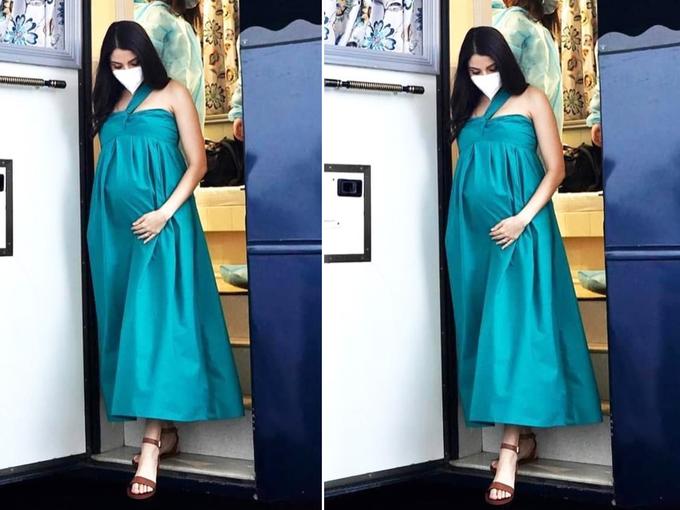 Even though Anushka Sharma is currently running in the eighth month of her pregnancy, she is still not giving up experiments with her looks. We got to see the same when Anushka was spotted on her shoot set in connection with work. During this, Anushka was seen in a green monochromatic dress with a shoulder dress, designed by fashion label Mango.
This one shoulder maxi dress featured a designer flared hem with two pockets, helping to cover Anushka Sharma's baby bump.
Not only this, Anushka Sharma was wearing brown sandals with minimal makeup to complete her look, who was not taking any hesitation in giving a relaxed look to the actress. By the way, let us tell you that this green maxi dress of Anushka Sharma is ₹5590 which is available for ₹ 3913 at this online discounted price.
Anushka's Jumpsuit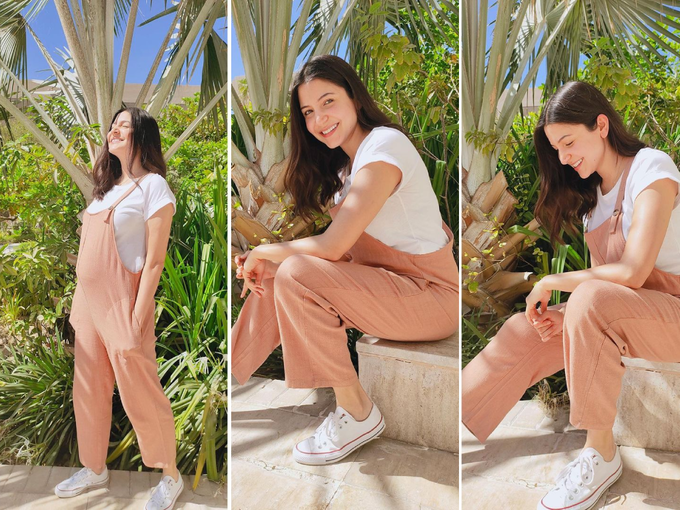 During one of her outings, mummy-to-be Anushka Sharma shared some of her cute pictures back to back on her Instagram, in which she was seen wearing a casual jumpsuit of salmon pink color. The pinfros jumpsuit from Saint Frock with white tees featured a side pocket, paired with a shoulder belt with designer buttons.
Not only this, the jumpsuit set that Anushka Sharma chose to flaunt her baby bump has been designed by the StFrock fashion label. The most interesting thing about this attire is that the front has been given side pockets touch with button detailing, which is doing quite well to give this outfit a functional look. Anushka looks cute in open hair and white sneakers with minimal makeup. Explain, the price of this jumpsuit is USD 69 (₹ 5,070).
Anushka's killer look in orange dress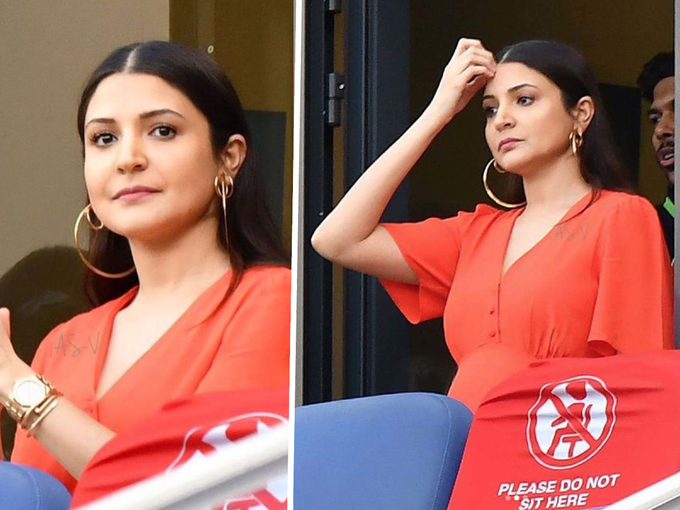 Anushka Sharma was once spotted during the Indian Premier League (IPL) in a Brunt Orange V Shape Mini Dress, a Comfort Fit Regular Maternity Dress from fashion label Asos. The V shape had short sleeves as well as lined (in a line) buttons on the front note, giving this side pocket dress a very attractive look. Although Anushka's dress was gorgeous due to the eye-catching color, Smokey Eyes with minimal makeup, glossy lips, open hair and big hoops, Anushka looked lovely.
We'll let you know that the V shape dress that Anushka Sharma chose to flaunt her baby bump, the price is under budget. You will get this dress on Asos fashion label for just £ 19.45 i.e. ₹ 1,874. At the same time, the price of this dress was up to ₹ 2,505 earlier.
Stay tuned to trenzdiva for entertainment and fashion news. We bring to you the latest news from fashion. Keep checking in and you won't miss a single news.