Fashion
Beauty
Diva Style
Hina Khan New Looks Divides the Internet in 2
It is difficult to see both praise and criticize the look Hina has shared of herself in the black and white dress.
Talking about Hina Khan's fashion, there are a few highs and lows in it. Many times this actress is seen in such a style, beyond which even the greatesr beauties may look pale. At the same time, sometimes her looks make you wonder what exactly the thought process that was behind it was. The actress's latest look is different, and the internet can't really decide if it wants to love it or hate it.
Hina Khan's monochrome combination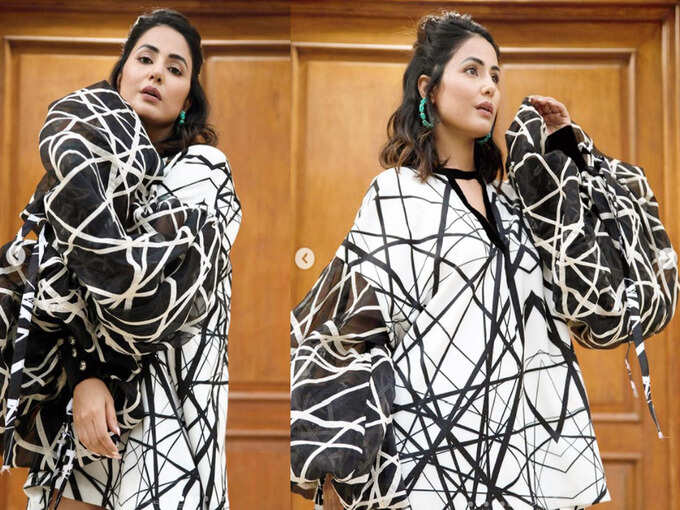 This over-sized shirt-dress was short, with the hem reaching up to her upper thigh posture. Balloon sleeves, deep key-hole necklines and graphic line patterns were used in the design to add a dramatic effect to it. She was stitched with a solid looking material using organza fabric to add sheer touch to the dress. This combination of black and white was looks quite eye-catching.
Dramatic touch also showed in hairdo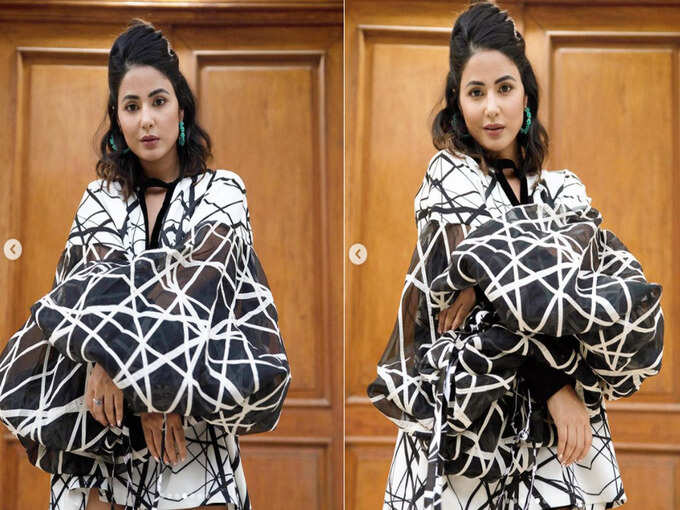 Hina Khan wore turquoise beaded studded hoops with her outfit. Her hair was styled in a half-up bun with side partitions. The drum puffed look inspired by the dress could also be seen in her hair do. Hina's nail polish was kept in white while matching the outfit. At the same time, the actress's makeup was kept nude tone to give a stylish finish to the look.
There is no doubt that not everyone can pull off this look so confidently, for that Hina is quite daring. However, it is also clear that this style did not look as special on Hina as seen on the model on the ramp walk. We think it's safe to say that Hina has looked way better in different looks before this.
Hina's Stunning look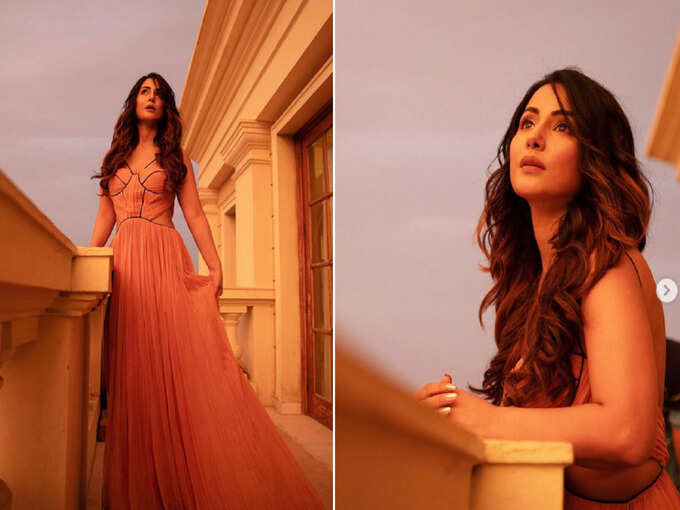 Like the pictures Hina Khan shared in floor length gown, for which fans were fascinated by her beauty. From the fall of this cutout design outfit, the backless design and the accordion pleats stitch were what made it great in terms of style. At the same time, Hina's wavy hair do and matching nude makeup gave her a princess-like look. The actress really looked quite stunning in this.
Do you like or hate Hina's look in her new pictures? Tell us in the comments below.
Speaking of new looks, we have a whole website dedicated to just that. Hop on to our home page and play around a bit. We're sure you'll find something that you'll love to read.
Stay tuned to Trenzdiva for more fashion and entertainment news.