You probably have a bra for every occasion now.  You even know everything about bras!  But did you know that there's more? Increasingly, brassieres are becoming more functional in terms of health issues and benefits rather than just being a stylish undergarment. Brassieres are now made with specific notes in mind, for different breast shapes and sizes and body image issues. Even men can wear bras for a better body image. Today, learn all about minimizer bras and take a note of our suggestions for the best products in the market, so you can make an informed decision.
What are Minimizer bras?
Like the term suggests, a minimizer bra is designed in such a way that it makes the breasts to appear smaller, or rather not jutting out. A well-fitting minimizer bra ensures smooth and comfortable redistribution of breast tissue, so that it looks neater and much more appealing while wearing certain kinds of clothes.
Who can use Minimizer bras?
It is ideally for women with larger breasts in comparison to other parts of the body. Now, your breasts are natural ladies, and you should not feel any compulsion to make them appear smaller. But for some women, breasts jutting out can be an issue, making them feel conscious and uncomfortable. And for others, it's a whole other reason. Imagine buying an amazing standard fit dress, only to see that it is way too hard to get it across your chest. What a mess, right? When you have slightly larger breasts but don't have clothes that cater to this aspect, you should consider using a minimizer bra just to have a few comfortable hours of wearing a nice tight-fit dress without it going up, or low cut one without it drooping down.
Here is our list of the best minimizer brassieres hand-picked for you.
Bali Passion Minimizer Bra
Bali Passion hosts some amazing minimizer brassieres in different fabric and textures for maximum comfort. The fabric combination in this minimize bra is super smooth, so it feels almost next to skin. It is the perfect bra for long days, and goes with any outfit because it has a neat lining, making you feel like you are probably not even wearing one. Also, the straps in this bra are lightly padded to serve as a cushion on your shoulders and help alleviate any pain and stress on the shoulders. With subtle underwires, you and your breasts can be assured of an immensely comfortable fit.
Zivame Double Layered Minimizer Bra
The best feature of this brassiere is that it provides the fullest coverage and support without the discomfort of underwires. The bra is functional with additional fabric that helps adjust your breasts neatly and reducing the strain on your shoulders. With a soft and seamless lining, the bra encases your breasts fully, and gives you a more refined look. You can pair it up with any classy dress for a night out, and ensure that you can dance to your heart's content without worrying.
Enamor Smooth Lift Classic Bra
This is an everyday essential brassiere that has low cut straps which make it immensely comfortable to have on. The straps do not cut in to your skin and the additional fabric material provides smooth and full coverage to the breasts. It's a cotton bra which stretches along with the creases of your breasts and comes with no pads and underwires. The cotton fabric is lightweight and breathable. This is a classic brassiere to have and is suitable for everyday wear.
Underworks MagiCotton Sports Bra and Binding Minimizer Bra
A perfect bra for when you need a binding effect on your breasts. This brassiere works great when you have to indulge in any physical activity like running, for it keeps your breasts from heaving. The binding effect is extremely subtle and super cozy, as it works by careful and comforting redistribution of your breasts, that you barely even feel it. The cotton fabric is an added advantage in terms of ensuring no irritation while doing strenuous activities. This bra is the most functional minimizer bra, for the design specially caters to achieving the minimizing and binding effect.
Glamorise Wire-free Minimizer Bra
Several of you may not like the way underwires feel, especially when it cuts through the skin causing unnecessary scars. If that is the case, Glamorise offers a variety of wireless minimize bras for everyday use and comfort. This is one of our favorites, because this brassiere helps minimize almost a whole cup size. So if you're a D, you can wear clothes that demand a C. For extra ease, the bra has straps that are both padded and adjustable- you can customize the way your breasts can fit into the bra. Also, they're super sexy to even look at, with lacy details that will make you feel cute and sophisticated even on the inside.
 Clovia Classic Non-Padded Non-Wired Plus Size Bra
For all you busty ladies, we feel you. So does this bra. Beautifully patterned and with great fabric that comes with double-layered cups, this classic brassiere is the one for you, if you are not a big fan of pads and underwires. It is the most natural minimizer bra that lets you breathe easy and still supports your breasts. This minimize bra does not squish your breasts as most minimize brassieres do, but helps align neatly to provide smooth and essential comfort.
Lilyette by Bali- Tailored Strapless Minimizer Bra
This is the go-to brassiere for any off-shoulder or strapless outfit. It has all the specifications of a minimize bra and goes a step further by ensuring you can use it for those dresses you might have felt conscious in before. It has a wider set strap closure so it sits on right and even provides a great shape to your breasts. The added advantage is that it comes with removable straps, so it can be your bra for every occasion. The smooth underwire lining and seamless comfort that this bra offers makes it a highly recommended wardrobe essential. Use it with or without straps as you see fit.
Shyaway Wirefree Back Adjustable Minimizer Bra
This brassiere comes in a very nice shade of rosewood pink, and in the perfect fabric that sits just right on your skin. Bra features an additional band under the breasts for added support and has adjustable straps, so you can decide how the optimum level of comfort. As it is wire-free, it does not cut into your skin and the whole product works great for women with sensitive skin.
Olga Sheer Leaves Minimizer Bra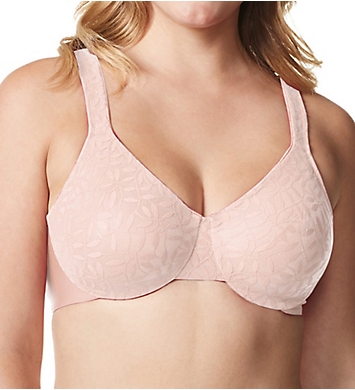 The wide-set straps on the shoulder and full coverage make this brassiere stand out. It has the softest silky fabric lining that feels great against the skin, and a pretty design on the outside. The underwires do not poke in uncomfortably, but rather help ease your breasts in neatly and divisively. The lightweight fabric makes it ideal for casual days when you do not feel like dressing up and just want to go out and have fun.
Vanity Fair Minimizer Bra
This bra has been specifically designed for bustier women, for it is both well-fitting as well as easy to wear under any outfit. For added comfort, the triangle centre at the bra is a great feature. It offsets the weight of your breasts and helps distribute them evenly.  It is sexy, in that, you can pair it up with any low-cut dress without any hassles, for the underwire ensures your breasts stay in place.  If you have fuller breasts, you might want to consider trying this brassiere.
Do let us know if you have any favorite minimizer brassieres in your wardrobe, in the comments below!
Hop on here to know about all kinds of bras and find out which one is the best and most comfortable for you.
We have a few more questions answered on our platform. Here are some of them
Is it normal to wear several different bra sizes?
How to know if your bra fits correctly?
Worst Bra Mistakes Women make in 2021
Don't forget to tell us what you think about this blog in the comment section below.
Stay tuned to Trenzdiva.
Co-author-  Aryashree Narayan